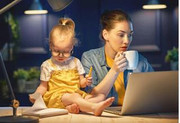 As a busy single mom, you play every role imaginable in your household. From the main parent and chauffeur to breadwinner, nurse, confidant, counselor and more, you are on the go 24/7/365.
Because you have so many responsibilities—and, as your kids are getting older, they are getting busier—the traditional 9 to 5 job is not really happening for you. You want to be there for your kids as much as possible to take them where they need to go, to help them with homework and to volunteer in their classrooms. You also are trying to avoid costly childcare as much as you can, which chips away at even the most generous salaries.
Here's some good news, amazing mama—there are a number of jobs that you can choose from that offer plenty of flexibility in when and how often you work. For example, check out the following ideas:
Own Your Own Business
If you have always wanted to own your own business, consider doing direct sells. Amway offers hard-working and devoted moms like you the opportunity to become an Independent Business Owner and work on your own schedule. Partnering with an established company like Amway, which has been around since 1959, is a smart move for working moms. To get you started, the company offers Amway Education that teaches you all sorts of skills to be sure your at-home business succeeds. Until your Amway business builds and becomes more lucrative, you can combine it with your current job or some of the other ideas below; the beauty of Amway is that you can fit it into your family's schedule.
Consider a Career in Real Estate
Real estate agents are usually able to set their own hours but do have to work some nights and weekends. If you have access to last minute child care (think next door neighbor babysitters), real estate may be a great option for you. Kapre.com is a great resource that explains how to go about getting your real estate license—fortunately, there are online options that can be done from home. In addition to being a realtor and helping clients buy and sell homes, you could also consider a career as a real estate appraiser. Both jobs tend to have reasonably flexible schedules, offer great benefits and good salaries.
Be a Virtual Assistant
If you are highly organized and have great verbal and written communication skills, working as a virtual assistant might be a great career option. You will typically need your own computer with a high speed internet connection and a home office that is quiet and free from distractions. As Payscale notes, the average pay is over $15 a hour, and the hours are usually very flexible. Some of the main duties as a virtual assistant include writing and sending emails, placing calls on behalf of your clients, organizing travel for executives and returning calls from potential new customers who want to know more about the company.
Do In-home Day Care
If your children are not currently involved in any extra-curricular activities and you adore taking care of other kiddos, in-home day care might be a great option for you. You can get paid to watch children in your home and/or offer after-school care. Start by looking up the state licensing rules on Daycare.com. Once you get everything set up start advertising your services—you will probably find plenty of parents who are looking for affordable and caring day care or after-school care for their children.
It is reassuring to know that you can bring in a steady income, find work that you enjoy and still be there for your kids and their many needs. Not every job is set in stone in terms of its schedule, and there are plenty of options that do not require you to spend 40-plus hours a week in a brick and mortar building. From direct sales to real estate and more, the flexible options are definitely there for you and your family.