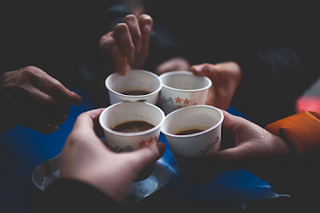 Many people are under the misconception that cold brewed coffee is just coffee poured over ice. That is not at all true What that is, is diluted coffee that was brewed hot and cooled with frozen water. Cold brewed coffee is exactly what it sounds like. It is actually coffee that is brewed slowly and specifically without heat.
The taste of cold brewed coffee is different and there are many wonderful reasons you should drink it. We are going to explain the process and give you some reasons to give it a try in this post.
How cold brewed coffee is made
Cold brewed coffee is made with cooler water. It is set out for 2-24 hours at room temperature. The brewing time affects the taste of the coffee. So different times will be used to prepare different recipes.
When the coffee is brewed, it is very strong. At that point, it is diluted with water. You will need 50% cold brewed coffee and 50% water to have the balance most professional coffee shops use.
Place your cold water in a picture. Since you are going to use whole beans, use more than one coffee filter.  Fill the filter with your coffee beans and gently place it in the water Allow it so saturate and flow to the bottom of the picture. Cover the picture and leave it on the counter so it can brew at room temperature for no less than 12 hours and up to 24 hours. Highly recommended to check out this great resource on cold brew coffee – learn how to make it and master it right here – Home Grounds.
Use fresh coffee. Please note; the coffee you buy at a supermarket is not fresh coffee. It has been picked, prepared, canned or bagged, shipped and stored until the spot on the shelf is low. Go to a coffee shop. Ask him how old his coffee is. Buy smaller portions and return for fresh coffee often.
Try different brands and find your favorited. You will be amazed at the difference. Get to know the owner. Ask him to call you when he gets something special in. Good coffee will begin your love affair with the better brands.
Specialty brands
New Orleans has a special brew of cold brew coffee that includes the addition of chicory,  Starbucks has a cold brew coffee that they steep for 20 hours. They add citrus flavor and chocolate, and instead of mixing it with 50% water, they serve it over ice. Most iced coffees at espresso served over iced. This is their way of making it special.
It is important to note that cold brewed coffee has much less acid than hot brewed coffee and it has a more natural sweet flavor. That is why adding things like chicory give it the right amount of spice.
Reasons Cold-Brewed Coffee is Healthy
This is far better for your teeth and stomach
While cold-brewed coffee may have fewer antioxidants than hot brewed, it stays good in your refrigerator for up to two weeks. This allows you to get a continual flow of antioxidants throughout your day.
We usually drink coffee for the caffeine boost it gives us. Cold-brewed coffee gives you the caffeine without the stomach issues it can cause. But, it is important to note that cold-brewed coffee is diluted before it is served with water or milk. So, a 16oz. Cup of cold-brewed coffee will give you about 200 mg of caffeine. A 16oz of hot-brew will give you from 260 mg to over 300 mg of caffeine. The type of coffee beans used and other preparations and additions will change this number. So you will get a reasonable amount of caffeine with cold-brew without the nervous jitters for over caffeinated drinks.
 Cold-brew coffee will help you lose weight.
Drinking a cup of cold-brew coffee after your workout contains the right amount of caffeine to help you continue to burn calories after the exercise. Pros call this the after-burn and cold-brew is great to burn those extra calories.
It makes you smarter! Studies have shown that the caffeine kick to the brain sharpens your cognitive functions and improves your motor functions.
The NCBI research shows cold-brewed coffee slows aging.
The same research shows cold-brewed coffee helps keep insulin levels even and can essentially lengthen your life.
Get started today. It is not hard to make cold-brewed coffee. It is a treat you want to try as soon as possible.