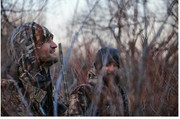 Some of us who've been hunting a long time will know that hunting brings us many benefits but, for people new to the sport, it is often difficult to see what the positives are to this kind of activity. After all, hunting is a special kind of pastime that involves an investment of a great deal of time and money to get started and continue doing. But these efforts do not come without advantages, so they are definitely worth the outlay.
Improved Physical Health
Hunting involves spending a lot of time outdoors and is a very active hobby. You won't need to waste your time or money working out at a gym, as you'll be spending enough time outdoors keeping very fit and healthy. The amount of time you spend trailing and hunting down animals will exert the same amount of energy as any cardio workout at the gym, and is certainly more interesting than being stuck on a treadmill!
Not all this, your muscles will also get a good workout too. Hunting gear weighs a fair amount – as any beginner hunter will tell you – and you're required to carry it around for hours at a time whilst out hunting. After hunting for a while, you will build muscle and so keeping it up is as good as any workout, with increased heart rate and improved blood circulation.
Improved Mental Skills
As well as being good for your physical wellbeing, going out hunting also brings dividends to improve your brain power. You'll be out there in nature doing something quite instinctive to humans, as the skills come from our ancestors that are often lost in modern living. Hunting is a great way to reconnect with some cognitive skills that you may have forgotten, including discipline, patience, and spatial mapping.
After hunting a while, you may notice that you are more alert, focused, and have a sharper mind all round. Your wits will be kept about you as you quickly regain your primeval survival skills that lies deep in all our psyches. When hunting, you'll be out there in the wild dealing with all sorts of threats, which has a positive benefit on our neural pathways.
Improved Social Skills
One thing that non-hunters tend to forget is that hunting is a great bonding experience between family members and friends. Too often in modern life, families spend time together, but don't really connect with one another, perhaps distracted by the draws of modern living, such as staring at television screens, or being addicted to mobile phones and the internet.
When you're out there hunting, it is just you and your hunting party amongst nature. You are required to rely on each other, and this really helps to build social skills that are often forgotten in everyday life. The bonding doesn't stop when the hunting trip is over either since you can spend time together preparing a meal from your hunting gains.
Get Your Gear Ready
You'll also feel a sense of unity with your hunting team – be they friends or family – as you will all be equipped with the correct clothing and equipment that helps hunters blend in with nature. If you're not sure where to start looking for your gear, there is a large selection of Seeland outdoor clothing available at Great British Outfitters that is suitable for many hunting occasions.
We definitely think there are plenty of benefits to hunting. So, next time someone asks you, "what's the point in hunting?", you can go ahead and tell them about all of the above.