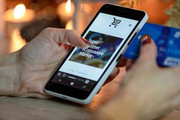 If all my past romantic relationships were like my experience with online shopping, then I'd be deliriously happy. Sadly though, I have yet to strike gold in the romance department. But at least, I have been successful so far with shopping online.
Curious about how to safely shop online and grab some internet deals? Then read on for my tips:
Keep track of price drops. Add your favorite items to your wishlist, and you'll get alerts from the online store when the price for your desired item goes down. That would then be the perfect time to swoop in and buy it.
Use coupon codes. Ah, the sheer bliss of magically slashing prices off the items in your cart! One way to quickly find working coupon codes is to simply type the brand of the item with the words "promo code" in the Google search bar. You'll then get a list of verified coupon codes of the product you want.
Stay in the loop. Remember to follow the social media pages of your favorite online store, so you don't miss out on promotional deals. You can likewise subscribe to their newsletter, so you'll get regular promo updates through email. It always pays to be in the know.
Safety is king. The last thing you want to do is fall prey to internet thieves. So whenever you go on any online store, make sure that it says "https" at the beginning of the site url. This assures you that you are entering a secure site.
I hope that the above tips help you enjoy a seamless and money-saving online shopping experience. At the end of the day, nothing beats scoring an awesome deal on your prized product.
Do you have any more tips or helpful hacks on online shopping? Please feel free to share them in the comments section below.