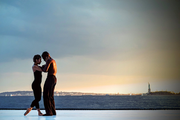 In generations past, sports, and activities were determined to be male or female games based on the physical strength the activities required. Society began evolving at a record pace. Around the time that women were taking their place around the conference table in the boardroom, and men were becoming actively involved in their daughter's growth and development; Athletes of both sexes stood up to be counted.
These days dance is a widely practiced activity by both men and women and it can help you have a more active lifestyle. But before you start practicing it, make sure you have the right equipment. There are online dance stores for all of your clothing needs. They have the right gear for male or female dancers.
General benefits
We will go through these quickly. You have read them in hundreds of articles. They were true then, and they are true now. However, we will not force you to review the obvious in depth. This will lower the risk of your office ceiling crashing down from the pressure of a group yawn. One of the main benefits you can get by dancing are:
You get more exercise

You better control your weight

You force more blood and oxygen into your heart, lungs, brains, etc.
Other benefits (that count)
Muscle control and strength
Kids go through "the weird years." That is when their bodies begin growing at different rates. They will leave for school dressed perfectly and arrive in clothes that look like they mugged a kindergartener.
This will not go unnoticed by their peers. Until they establish their position in their new school year, there are two ways to handle it. They can adapt an "I meant to do this" attitude. We have all seen them. The girl that looks like she was trying for the cheerleader look with her uniform, or the basketball star who never finds a jacket that touched his hands. They write their history notes there so they can give you the look. The other option is they can run like heck. Either way requires good muscle tone.
Teaching a kid the art of dance, teaches them body control. They can suddenly walk without kicking the leg of your chair. They can talk without clearing the table with the sweep of their hand.

Learning to dance

is learning grace, teamwork it is rising to a higher level.



Photo credit https://unsplash.com/photos/64W8uI63HrQ
Get in shape for an event
Dancing is great for keeping you in shape and contributing to a healthier lifestyle as well.
If you're thinking about wearing a tight dress for a dance party, gala or some other event, dancing will help you tone up and look great. In case you're preparing for your best friend's wedding and want to look great in a bridesmaid dress, that's no problem. All it takes is to be consistent, attend your dancing classes regularly and the results will be there in no time.
Conclusion
Whether you want to add an activity that will teach your child to be a healthier person, or if you are looking for a tool to help you achieve a particular look, you will definitely find what you need through dance classes.