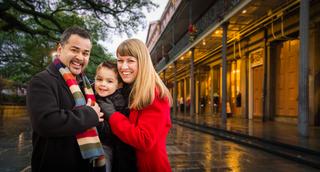 There's no denying that New Orleans represents a beacon of culture and one of the hottest tourist destinations in the South.
That said, saying that you want to take a family vacation there might turn some heads from your friends and family.
News flash: you shouldn't let the Big Easy's party-hard reputation deter you from taking a visit with your kiddos. The fact remains that the city is as family friendly as they come if you know where to go.
Heck, Louisiana at large is a total blast if you've never taken your kids there. Between the swamplands, unique local culture and amazing food, the state is most definitely worthy of a road trip. Renting an RV in Louisiana is likewise a cinch whether you want to stay near New Orleans proper or one of the surrounding suburbs.
Of course, making the most of any family vacation ultimately boils down to activities and attractions. The following four picks allow you to both see New Orleans right and keep your kids entertained.
Visit The Audubon Aquarium and Zoo
Located in the heart of downtown NOLA, the Audubon Aquarium and Zoo are two of the city's most population attractions, especially for kids who love animals. The Aquarium offers up-close encounters with otters, alligators and everything in-between. Meanwhile, the zoo boasts daily feedings and the chance to see rare swamp and jungle life.
Due to their popularity, it's ideal to check out both attractions during weekday afternoons. Likewise, strive to scour the web for package deals prior to picking a date.
Check Out Mardi Gras World
The fascinating history of Mardi Gras is lost on many people, but this museum is a great place for kids to see and experience the festival's colorful traditions. Visitors have the opportunity to see firsthand how floats are made and actually try on various Mardi Gras costumes. Definitely a hands-on museum, you're not going to find anything like this outside of NOLA.
Explore the Riverside
With so much hustle and bustle in the downtown district, a stroll on the Riverside a simple yet cost-effective way for kids to unwind and see the city at the same time. If your kiddos on the hunt for some adventure, though, this is also the perfect place to hop on a riverboat tour of the Mississippi.
Spend Time in the French Quarter
The French Quarter and Jackson Square offer the essential New Orleans experience, including street artists, jazz musicians and stunning architecture such as the St. Louis Cathedral.
Your kids will be blown away by the sights and sounds of the Quarter, not to mention all of the family friendly New Orleans cuisine available on every corner. Whether it's a New Orleans-style "sno-ball" or a beignet from Cafe Du Monde, there's no better place for a sugar rush.
Don't be deterred from the idea of taking a family vacation to New Orleans, especially since there are so many kid-friendly things to do. In short, you haven't truly seen the South until you've been there: so start planning your adventure to the Crescent City ASAP.
…………