Now more than ever, I'm beginning to realize the importance of living a balanced life. I feel that I have been working way too much, that it's starting to taking its toll on my health and overall outlook on life. I knew that I was on the brink of losing it, when I got impatient with my tween daughter simply showing me a video of her favorite K-pop boy band.
Then it hit me- I need to go on a vacation! Thoughts of lazily basking in the sun, as I sip a pina colada by the porch of one of those Caribbean St John homes for rent start filling my head…
If you feel that you too need to get away from it all, read on to see my bucket list of vacation destinations in the Caribbean:
Tobago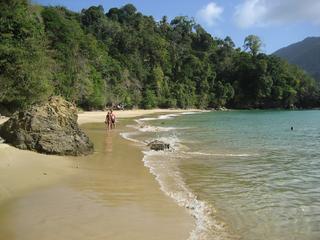 To most of us, Trinidad & Tobago always go together like peanut butter & jelly. But Tobago on its own is a lovely place to visit, especially if you're looking for a really secluded refuge.
Pigeon Point beach– the most popular beach in Tobago- is one of those idyllic beaches you can escape to. The white sand stretches as far as the eye could see, and the blue waters are unmistakably inviting. Here you'll also find the world-famous thatch roof jetty which gives the island a pristine feel.
Cayman Islands
Swimming with stingrays sounds absolutely fun, doesn't it? From Grand Cayman, you take a boat headed for Stingray City where you can swim in waist-deep water as stingrays swim by. What's even more awesome is that you can get to hold and kiss a stingray (they say this brings seven years of good luck)!
Snorkeling at the Barrier Reef and Coral Gardens are other things to do here. For sure, nobody in the family will get bored.
Aruba
Take the road less traveled and go on an island safari. An off road, four-wheel ride will transport you to various stunning attractions such as the Natural Bridge, California Lighthouse, and Gold Mill Ruins. Oh, the places you'll go on a Land Rover! Safety won't be an issue at all, as trained tour guides are always on top of everything.
After a rough road ride, you can head off to the Natural Pool and Baby Beach to take a much-needed dip.
Jamaica
If you're a reggae fan like I am, traveling to Bob Marley's hometown is definitely something you should consider. Visit the village of Nine Mile in Saint Anne Parish where Bob Marley was born, and check out Mount Zion Rock which was his favorite meditation place.
At the Half Moon Resort in Montego Bay, you can cross the sea in an unconventional way by riding on the back of thoroughbred horses as they tread water like pros.
For a thrilling adventure, you can opt to hike up to the top of Dunn's River Falls- one of Jamaica's national treasures. Climbing to the top of this 183-meter jungle waterfall is not for the faint of heart! When you make it to the top, you can marvel at the breathtaking view and take Instagram-worthy photos which will unabashedly make you popular among your friends.
Bahamas
No Caribbean travel bucket list would be complete without a trip to the Pink Sands Beach of the Bahamas. Here, the sand is as fine as talcum powder. The way the light hits the sand gives it various shades of vibrant pink. And the water is as clear as the vodka you had too much of the previous night.
Barbados
Brave the deep blue by swimming with sea turtles in their natural environment. You ride a boat to the turtle habitat, and your private swim tour guide will help ease you into swimming alongside sea turtles.
After getting your sea turtle fix, you can then snorkel over shipwrecks and explore how different fish have made these artificial coral reefs their home.
Punta Cana
Back in the day, I loved watching The Flintstones. So when I learned that there's such a thing as a Flintstones-themed attraction called Bedrock City, I didn't think twice about adding this to my bucket list. Here you'll find a group of caves, among which are Fred Flintstone's villa and the famous Flintstone car.
You can likewise get a dose of Dominican culture by joining a tour where they have you ride in safari-style jeeps, and take you along the coastline of Cape San Rafael. There you'll see firsthand how a typical Dominican peasant lives.
If hiking up a volcano sounds like something you'd do on a dare, then St. Kitts is the place to go. The experience will have you catching your breath as you climb up to the edge of a volcano crater, over a distance of about 2.5 miles. The steep trek will take approximately two hours to finish. And then you can simply gape in awe at the marvelous beauty below.
We have only one life to live, so we must make the most of it. Fulfillment does not always have to come from how much you accomplish at work. Essentially, it's the wealth of experience we gain from traveling and recreation which helps keep us balanced and sane.
So the next time you find yourself frantically booking the next flight to somewhere in the Caribbean, take comfort in the fact that you are doing your overall mental health– and the people around you- a huge favor.