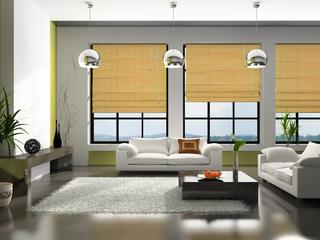 Most of us don't spend as much time outside as we should. While the kids are outside playing, you're probably stuck inside catching up on work emails or doing a little cleaning.
The obvious solution is to get outside more often, but what if you're stuck inside? You don't have to put up with a stuffy interior you don't love!
If you can't get outside, bring a little of the outdoors in. It's a lot easier than you think, and it doesn't have to mean moving all your furniture to install wood floors either. Here are a few natural details that are easy to add to any home.
Wood Blinds
One of the quickest and easiest ways to add some natural details to your interior space is with wood blinds. They enable you to decide how much sunlight to allow into a room, but they also end up making quite a statement because of their size.
Don't have enough money to replace all the blinds in your home with wood blinds? Consider faux wood blinds instead! According to Just Blinds, "For the same look, faux wood blinds cost less than real wood blinds."
Potted Plants and Flowers
One of the quickest and easiest ways to bring the outdoors inside is to place potted plants and flowers around your home. So why haven't you done it yet? Maybe it's because you don't know just how beneficial they can be!
A few benefits of potted plants include:
• Cleaning the air of toxins
• Lifting your mood, especially in the dead of winter
• They can provide you with tasty herbs for the kitchen
Stone or Wood Wall
When you think of adding natural details to your home, you probably think about replacing the carpet with wood. That's certainly an idea, but it can be messy, time consuming, inconvenient, and expensive!
Instead, consider installing a stone or wood wall. A single wall can be completed in an afternoon and it can completely transform the look of your space.
Don't want something so permanent? Consider hanging a barn door or wooden panels on the wall as if they were artwork instead. It will give you the natural look you're going for without the commitment of a permanent installation.
Floral Patterns
It isn't uncommon for homeowners to avoid floral patterns. They have a bad rap for being a bit grandma-ish. That's only true if you don't do them right.
Decorating with florals, when done properly, is a great way to provide your interior space with a natural look. Larger patterns can provide your space with a vintage feel while faded patterns have the ability to fit right into a gender-neutral space. Add florals with decorative pillows, rugs, and artwork.
Stop gazing out the window, wishing you could get outside by letting a little of the outdoors into your interior space instead! With the tips on this list, you can feel like you're in your own natural oasis no matter what the weather is like outside.
………..